| | |
| --- | --- |
| Study level: | bachelor's degree |
| Recommended high school specialisation : | Any |
| Employability: | Good |
| Starting salary: | €2,100 |
| Salary after experience: | €5,000 |
| Mobility: | Good |
| ROME code: | E1104 |
| FAP code: | U0Z80 |
"In the world of video games, character design is the profession that requires the most artistic skills. That is to say; they must have good anatomical knowledge as well as a good command of traditional arts. Creativity is a plus, although it differs depending on the company. Character design is made for those with a passion for detail and an insatiable curiosity. "


Aurélien Mauranne
3D character artist at Eko Software
"In relation to my experience, I would say that this job consists of creating characters who leave a mark on players or who tell a story or a concept through their mere appearance. But also (generally) characters that are aesthetically pleasing, with a harmony of shapes and colours. "


Guillaume Duchemin
Character designer at Ankama
What do they do?
In a video game, just like in animation cinema, for example, the character designer has several responsibilities, the three main of which are:
Designing the characters using traditional drawing techniques
Defining their characters, faces, movements, clothes, etc.
Bringing objects to life with graphic design software
And Aurélien Mauranne adds: « As in all other 3D careers, character designers must take into account the directives of their artistic director or their client. When working, they must constantly look for reference images to be inspired and respect the project's artistic direction. This preliminary work is an important part of the job because it nourishes the product's creativity and final quality. «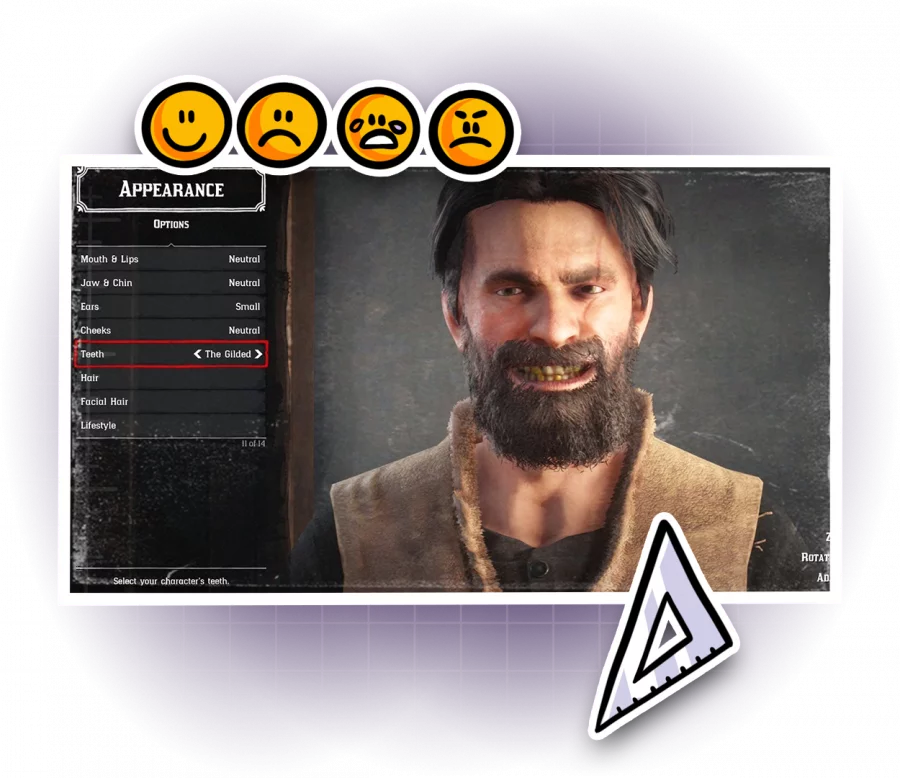 "The character designer designs characters that fit into projects. Since the character is designed for a project, it is important to think about the story of the project, the graphic style and the techniques used (for example, if it is a project involving 2D or 3D techniques). The character will embody all or part of the project and have to convey emotions and tell the story that has been developed through their body and clothes. To do this, a good command of anatomy, colours and clothing is necessary."

Boell Oyino
A freelance character designer who has worked on several video games, including Forest of Liars and a trailer for a season of League of Legends: The Path, an Ionian Myth - Spirit Blossom
What are their qualities?
It is a profession of passion; a character designer must have a creative and imaginative mind. They must know how to adapt to projects and audiences for whom the game is aimed.
A character designer is able to work in a team and shows a great work ethic. They must also be familiar with the world in which they operate, the careers within the industry and their constraints. They should also have a good artistic, cultural knowledge.
« You have to adapt to the style of the artistic direction and work alongside decorators so that the characters integrate well into their environment. You also need to have a good understanding of anatomy (I don't follow this rule enough), » explains Guillaume Duchemin, who worked on the Waven game.
What skills should they have?
To work in this position and create characters, animals, creatures, a character designer must have drawing skills. It's the minimum skill required. They, therefore, should know how to draw by hand. They should master the anatomy of the human body (and that of animals too). They should be able to create a look, facial features, and also clothes and objects. But that's not all…
This artist has another skill: working and using specific 2D and 3D software to bring the characters to life on screen. They, therefore, are able to work on texturing, modelling, or even sculpting.
For Aurélien Mauranne, a character artist must be able to:
« Have good knowledge of human and / or animal anatomy
Pay attention to detail, respect proportions
Know how to be inspired by what is happening in the field (the latest games / films …)
Know how to master software such as ZBrush, 3DSmax / Maya or Blender. Photoshop, Substance Painter and / or Quixel…
Know how to create a topology (mesh) optimised for both integration and animation. «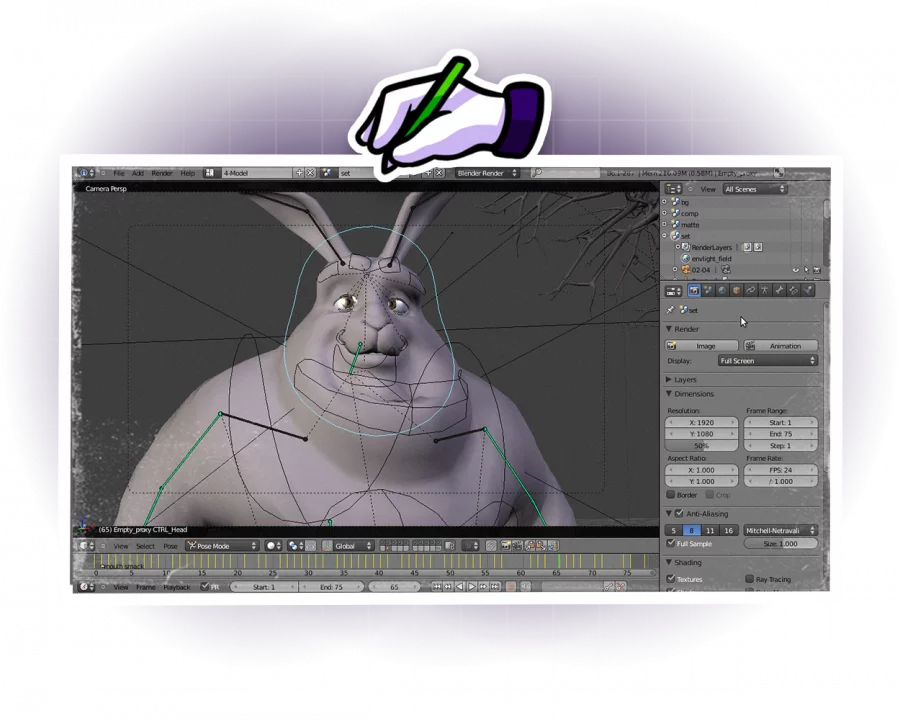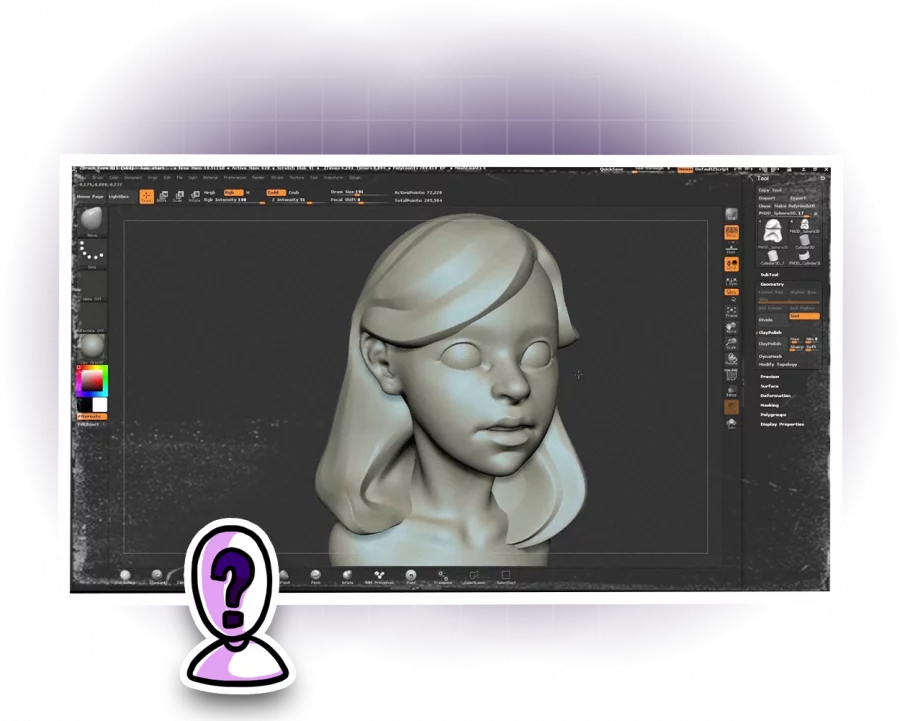 The advantages and disadvantages of the profession
The character design profession obviously has advantages and disadvantages.
The advantages
Profession full of passion
Possibility to evolve into freelance
Good employability and international mobility
Attractive salary
Technique and creativity
« Depending on the project, you can learn new things and enrich your visual references. For example, we may be asked to work in a style different from our own or make characters linked to a specific time, in a specific genre such as science fiction or fantasy. Social networks provide us with a good showcase for exhibiting our work. Finally, there are a lot of drawing contests around characters, which is a good way to attract attention to our work, » adds Boell Oyino.
The disadvantages
Creativity limited at times
Skills need to be updated regularly
Strong involvement
« There is a lot of competition, fierce competition with social networks, » adds Boell Oyino. Also, specialising in character design requires a lot of technicality (knowing how to draw bodies well and pose them well in particular). Finally, our style determines the projects to which we can contribute. « 
Which high school diploma should you choose?
If this job has caught your eye and you are looking for character design training courses, there are several in France, whether offered in private schools or public universities. Courses in design, cinema, and animation may offer a course in character design. But becoming a character designer requires a solid education.
In high school, you should make choices to take specialities in mathematics or digital studies, or STD2A (ex STI, which prepares students for careers in science and technology of design and applied arts). This is the best way to go. Then, go on to do a character design course in a school specialising in video games. And if your heart tells you that you should, you can continue onto a Master's degree in order to obtain further training and new skills to learn how to lead a project and manage teams.
Training programs
In the bachelor's degree, the program boils down to learning several disciplines such as:
Programming
Design
Level design
Ergonomics
2D and 3D software (Character Studio)
Dynamic drawing
Colour theory
Human proportions
Perspectives
Motion design
Game engines
Video game culture
The economics of video games
Employment Law
English
Then in MBA, you can study:
Management
Project management
Game design
And the deepening of certain specific techniques such as:
Lighting
Materials and textures
2D software
3D software
Compositing software
Video creation software
Game design
Training in character design
We have the solution for you to reach your career goals. Our G. Art school will provide you with everything you need to apply for a character design job. First, we offer you the digital graphic design bachelor's degree> (recognised by the rating agency EEA Eduniversal). For three years, you will follow a course focused on gaming culture, digital and technological culture by learning graphics software, video creation, dynamic drawing, lighting, materials, etc. You will also learn about communication and management. In addition, at the end of the year, you will carry out internships in a company.
With this, you can become a character designer. But if you want to go further, obtain technical improvement and consider taking on responsibilities in the future, we offer a game artist MBA (recognised in the RNCP Title, level 7). Over two years, you will master universes such as lighting, materials and textures, 2D and 3D software, game design, management, project management, law, English, etc.
The MBA ends with six months of internships in the 4th year and offers a 5th year in work-study placements or internships and fixed-term contracts.
Throughout the course, we also want to make you aware of the working environment. This is why we have set up meetings, masterclasses and conferences with professionals. They can also give you advice and support you in creating concrete projects such as the design of a mobile video game.
Finally, as the video game sector is international, we have chosen to teach you modules in English. This will be a real plus for your career.
Register for a course
You need not go through the Parcoursup system to register for a bachelor's degree because we cannot be found within it. You can therefore apply freely.
You must first have a high school diploma general with a technological or general speciality to be able to enter the first year of the bachelor's degree, then complete the application.
For our MBA, validation of the 1st year of a master's degree is compulsory. Obviously, an appetite for drawing and video games is a plus.
Internships?
It's simple; the school asks all students to do several internships during their schooling. This provides the opportunity to apply the knowledge learned in class and to face the working world. Students will complete two months of internship in the first and second year in the bachelor's degrees. Then three months of internships in the third year. Six months of internship are needed in the fourth year. As for the final year of the MBA diploma, we have chosen to immerse students in a company with a rhythm of internships and fixed-term contracts throughout the year.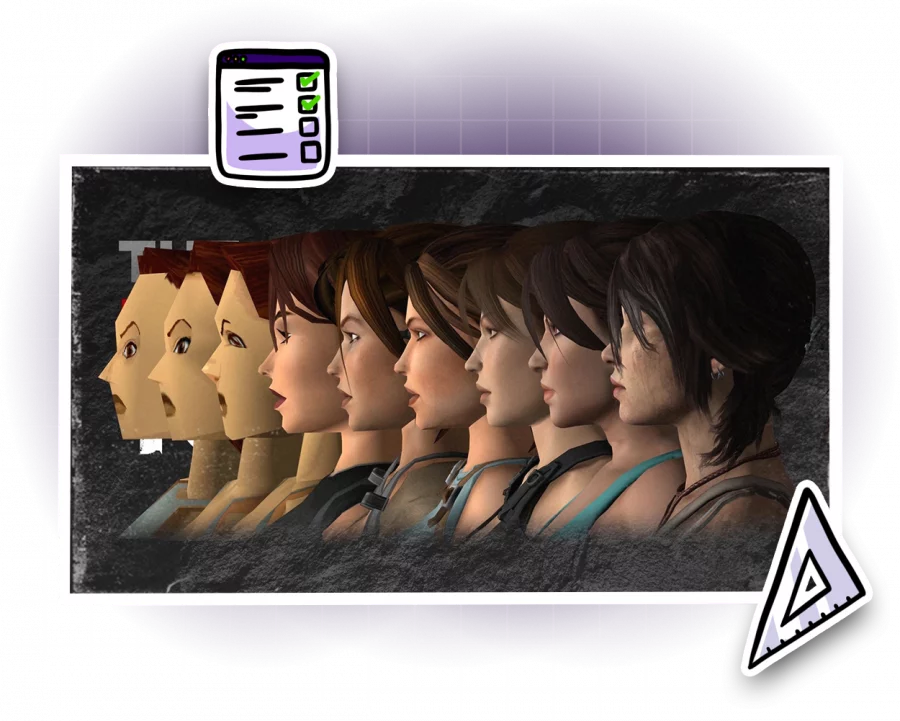 How much does a character designer earn?
The salary of a character designer is different based on the studios and your status (freelance or an employee). After a bachelor's degree in character design, they can earn between 20,000 and 30,000 euros per year at the start of their career. Abroad, their salary can more than double to nearly $ 66,000 in Montreal, Canada. On average, it is $ 58,000 per year.
In San Francisco, we see that the highest salaries easily reach 85,000 dollars.
In which companies can you work?
We can find character designers within a video game development studio such as Cyanide (Paris region), Oh Bibi, Unit Image or Quantic Dream. They are also found in serious game studios or those specialised in virtual reality.
Finally, a character designer can move towards animation and cartoons within Disney studios, Dreamworks, Viacom, etc.
To find an employer, we advise you to use your network. This is a network that you will start to forge from your first year of the bachelor's degree, through meetings at the school, for example. This is a point that should not be overlooked.
Then, the classic method to find a job is to find the offers available online. Sites specialising in video games offer several per day, such as:
Gaming job
Welcome to the jungle
AFJV
Seek-Team
Or even some consumer platforms that have a video game component such as Jooble, Randstad.game, and Glassdoor.
Career developments
Like all careers in video game design, a character designer can evolve into other careers. Their knowledge and mastery of the subject open doors for them. They can become a lead character designer, game designer or even a concept artist.
Finally, if they first work in a studio after their studies, they can go freelance after a few years of experience and network.
"It's a childhood dream to work in video games, so I have chosen to stay in a small company because it allows me to be more versatile and to be able to start and finish a character from scratch as well as to be able to express my creativity, which is not always possible in larger companies," emphasises Aurélien Mauranne.


Aurélien Mauranne
3D character artist at Eko Software
Freelance character designer
While they can work as an employee, a character designer can also choose to go freelance. Several professionals have opted for this solution. The advantage is the feeling of freedom, to choose your projects, to be your own boss. However, being a freelance character designer means knowing how to manage your time, finding responsibilities, being organised and above all, demonstrating great work ethic and expertise. Being independent is generally possible after a few years of experience.
"Since I started drawing, I have always made characters. At first, my drawings looked more like illustrations (my characters were rarely whole). With the Character Design Challenge, I started to make whole characters regularly, working on posing and making myself a proper character designer. I practice as a freelancer because it is very rare to be in a studio and only to do character design. Often, you will be asked to do other things like sets of visuals that will help other departments as well. I wanted to devote myself only to character design because that's what I prefer to do. "

Famous character designers
Some professionals have become famous. Among the famous character designers, we can pick out Michel Ancel (Rayman), Yoji Shinkawa (Metal Gear Solid), Tetsuya Normura (Final Fantasy), Akira Toriyama (Dragon Ball)…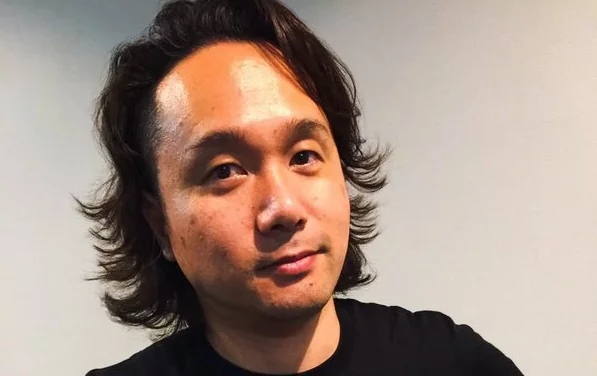 In summary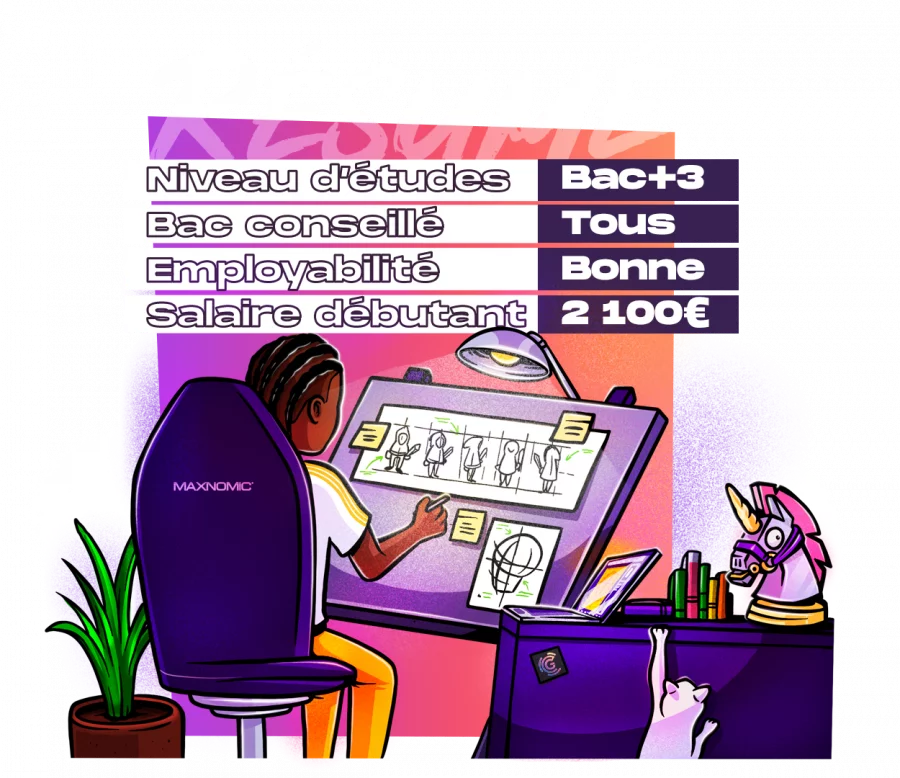 How can you become a character designer?
Becoming a character designer requires a set of dual competencies: knowing how to draw and knowing how to use 2D and 3D software. They are unconditionally required skills. Then, what will make you stand out is an artistic and video game cultural knowledge. So work as a character designer, in this position as the creator of characters, animals, creatures of a video game, you will have to go through a route including education. Our G. Art school offers both the Digital Graphic Designer bachelor's degree and the Game Artist MBA. Two diplomas from which you will emerge mastering all that is necessary to do this job well.
In video