| | |
| --- | --- |
| Study level: | bachelor's degree |
| Recommended high school specialisation: | Artistic ou Scientific |
| Employability: | Fair |
| Starting salary: | € 2,500 |
| Salary after experience: | € 3,750 |
| Mobility: | Correct |
| ROME code: | L1506 |
| FAP code: | U1Z80 |
"Being a rigger means taking the work of the modelling department to make it usable by animators, in the most comfortable way possible. It is above all a technical profession, with a small artistic part played in the deformations that must be the most aesthetic possible", describes Valentin Sabin, a rigger at DONTNOD Entertainment.


Valentin Sabin
Rigger at DONTNOD Entertainment
A rigger's responsibilities
Rigging is a technical profession. Their know-how makes them increasingly sought after by studios. During the production of a game, they intervene ahead of a 3D animator based on specifications. Its role is then based on:
The development of the mobile areas of the model in order to be able to animate them
Installation of checkpoints
The creation of an ergonomic interface for a 3D animator
The addition of new features, new expressions
Bug tracking and correction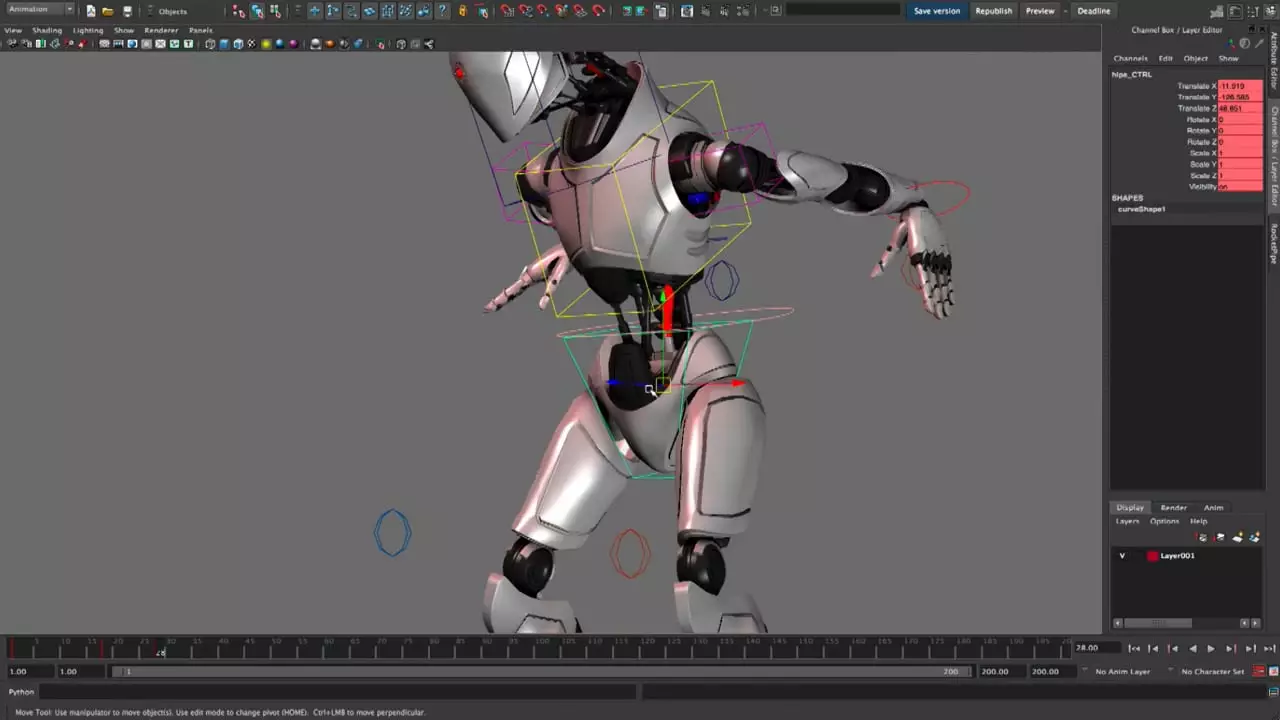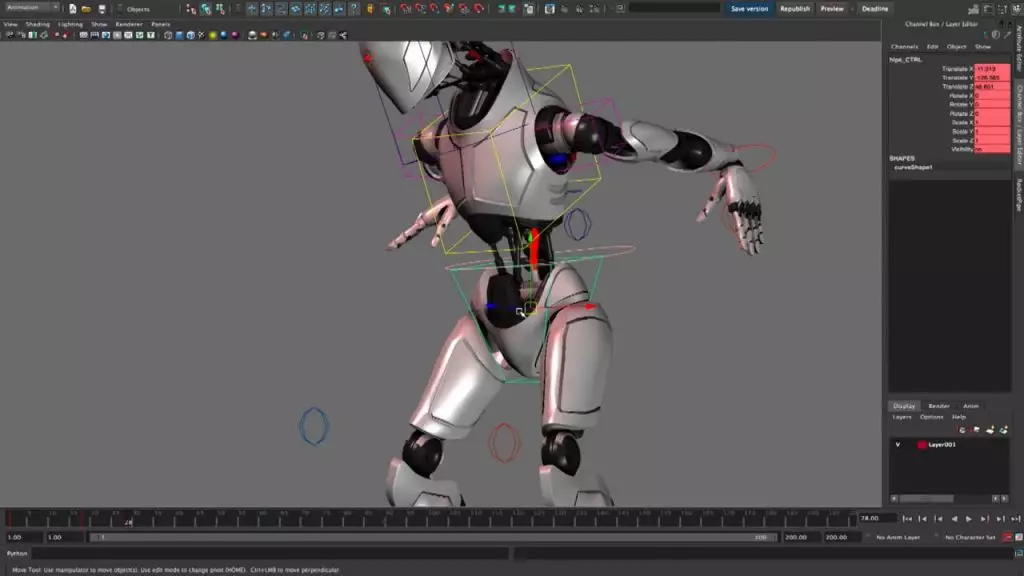 "A rigger is the technician who bridges the gap between modelling and animation. It creates an intuitive, yet effective puppet so that the facilitator can do their job with ease. To be a rigger, you have to be rigorous, know how to work in a team, always be open to criticism and be autonomous. You must know anatomy to stick as closely as possible to reality (whether it is a humanoid or a monster with 3 heads and 5 pairs of arms). Scripting is an essential skill because there are a lot of repetitive tasks that can be automated, but also to be able to develop your own tools."


Marion Patin
Rigger at Spiders Game
The qualities of a rigger
Beyond their mastery of technical aspects, the rigger has qualities that make them a centrepiece in creating a video game. They must be:
Rigorous and precise
Organised
Knowing how to work in a team
Listening and attentive
With a certain sense of observation
Essential skills
It is a sought after job, because a rigger is an outstanding technician, able to provide careful work to the 3D animator. So, they master several essential tools as well as some knowledge, such as:
Rigging tools
3D animation software (3DS Max, Maya, Blender, etc.)
Scripting (C ++, Python)
Anatomy, the science of movement
An artistic sense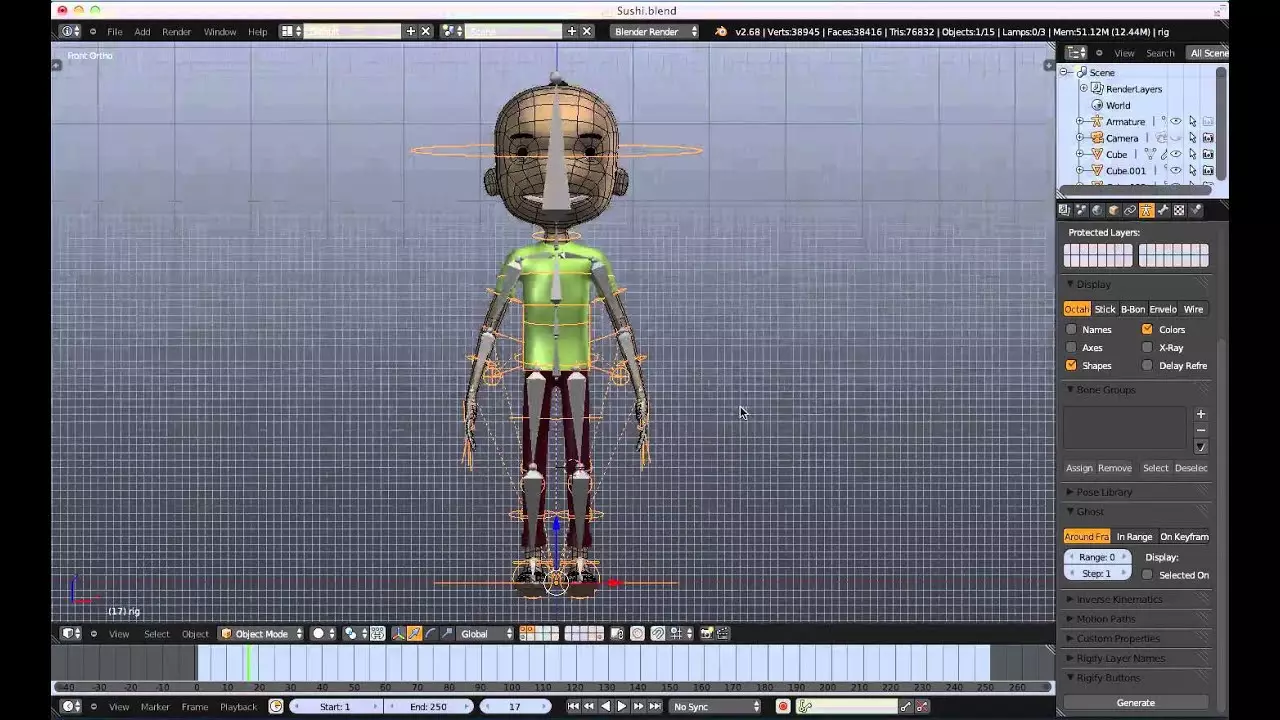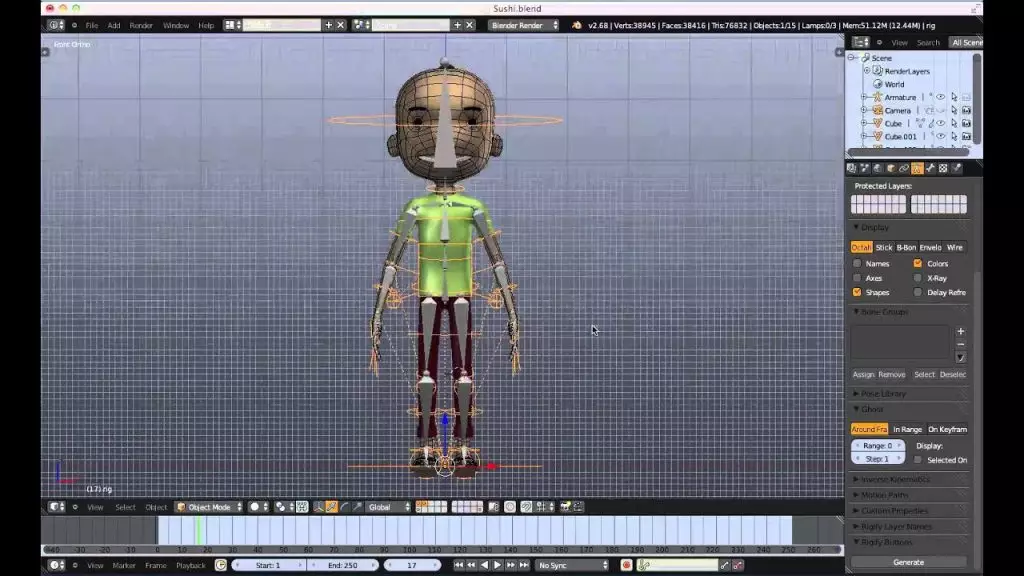 Among the software to be used by the rigger, there is Blender, a 3D animation software
"They must master the basic rig tools. Knowing how to make beautiful deformations via the skin is one of the main prerequisites, especially in a studio that has an auto-rig. They must consider the model provided to them (check if it is adapted to future deformations), and the comfort of the animators. Knowing how to animate is obviously a plus, to know what is comfortable to use as a facilitator (you have to communicate well with them). Knowing how to script (Python being the highly recommended language) is not necessary from the outset, but it becomes necessary if you want to progress in the profession, both in skills and in responsibilities. "


Valentin Sabin
Rigger at DONTNOD Entertainment
The pros and cons
Among the advantages of a rigging job are:
Very technical profession sought by some studios
Recognised skills
Significant international mobility
On the other hand, the job has some drawbacks:
Low employability
Average salary in France
Valentin Sabin adds: « It's a technical job above all, you have to like to solve problems! In addition, in large studios, often most riggers are « makers »: they use the auto-rig and skin the character. The technical part is therefore reduced because it is automatic. This is where it is advantageous to know how to script because you can then participate in the creation of tools or even in the improvement of the auto-rig already in place. « 
"It is a relatively unknown profession and with very little vacant space in companies. Good riggers are always in demand. In addition, a rigger is generally a profession that often interacts with R&D, which brings a lot of responsibilities quite quickly. It is imperative to stay abreast of the latest developments in the profession and never stop at what you have learned."


Marion Patin
Rigger chez Spiders Game
The level of study needed to be a rigger
To become a rigger, it is better to have studied for a few years. First in high school, choose a technical high school diploma or a general high school diploma specialising in mathematics, science or the arts. Then opt for a bachelor's degree in order to learn the basics of video games and their components (techniques and graphics).
A master's degree is also possible with a teaching axis focusing on management and project management. At the end of this diploma, positions of responsibility will be more easily accessible.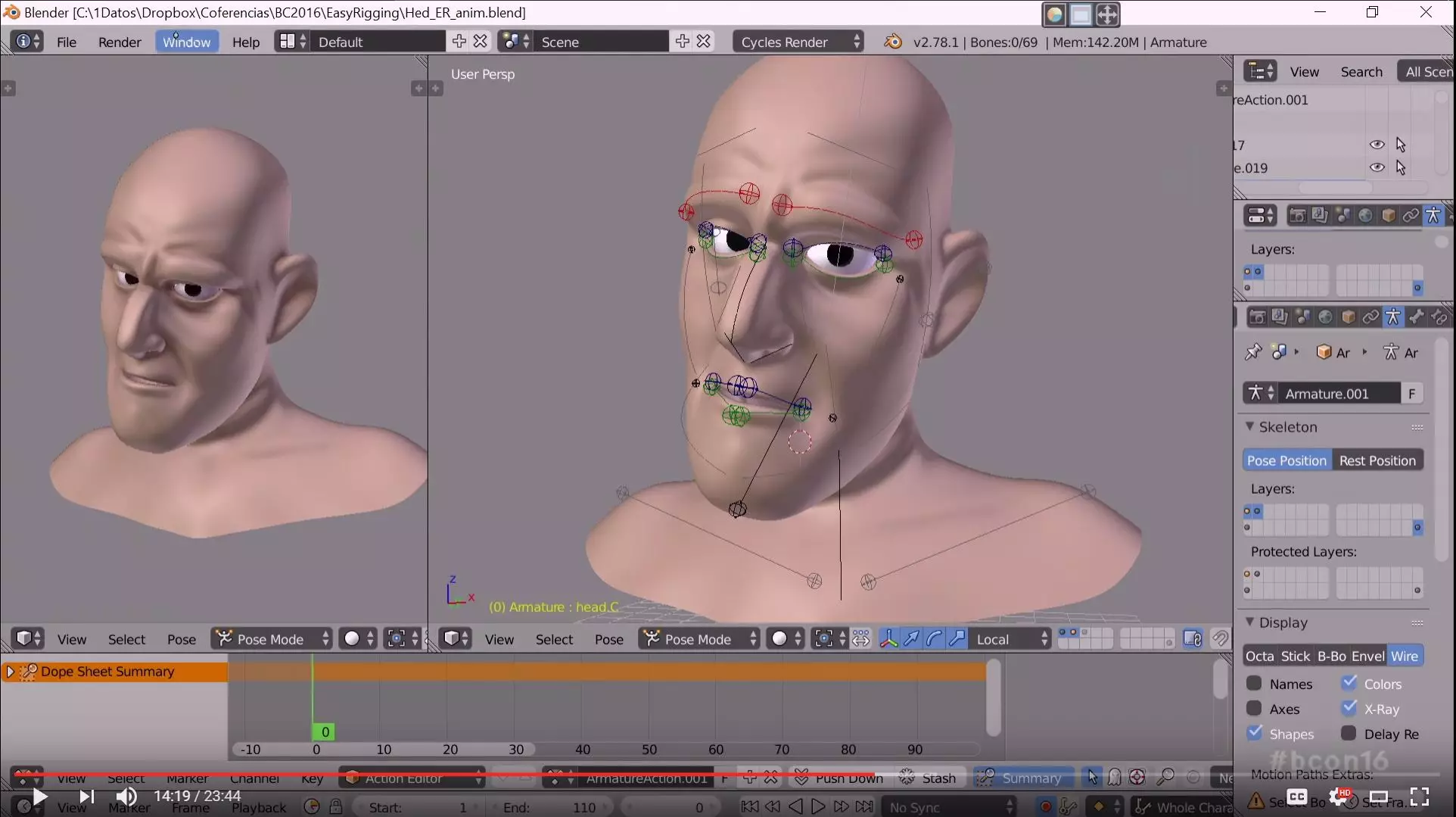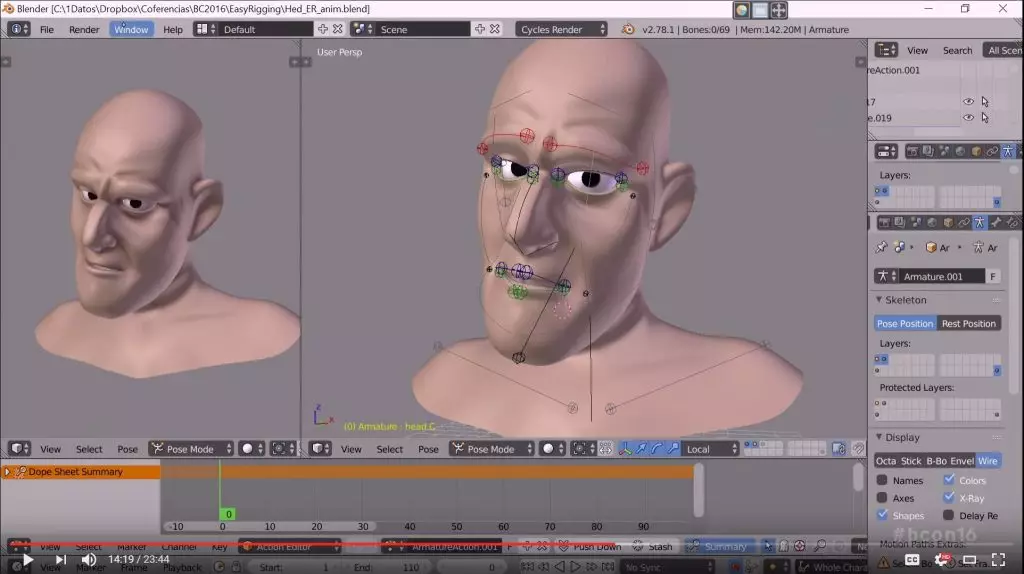 "During my five years of study at Supinfocom in Valenciennes, I was able to discover all the careers in a production chain. I immediately got hooked on the puzzle and logic side of rigging. I did almost all of the rigs for my graduation film and was more than determined to stay that way. After school, I worked at Unit Images where I started to learn scripting (Maxscript). I then joined a small company. I deepened and extended my skills (learning a new program, python and facial and body motion capture). I have been at Spiders Game for over a year, where I became the bridge between modelling, animators, and the in-house game engine. I continue to learn my skills as a rigger and in the R&D part of 3D programming."


Marion Patin
Rigger at Spiders Game
Which courses should you do?
Access to this rapidly developing position requires a solid background. This requires quality training like the one offered by our G. Art school. Based in Lyon, we choose to immerse you in the exclusive world of video games and give you all the skills required by professionals. First in a bachelor's degree, then by following our MBA development program.
We, therefore, offer three degrees, namely:
The 2D / 3D Graphic Designer bachelor's degree – Game art. It is about game design, programming languages, software, game engines, etc., and video game culture and artistic practice (gaming culture, concept art, graphics, etc.) over three years.
Then our MBA in technical artistry and MBA in game artistry gives a more specialised education. The first is in computer development and game art. The second is in production methodology and software, as well as game art.
We also focus our pedagogy on concrete productions and internships in companies at the end of the year of study.
Do a rigging internship
As for all careers, besides following quality education, doing internships allows you to confront workplace realities and practice and use your knowledge on concrete projects, even on future successful games. This is why we attach the greatest importance to each student following several internships throughout their course.
The periods range from two months in the 1st year of the bachelor's degree to a full year of both internship and fixed term contract for the last year of the MBA.
How much does a rigger earn?
As a junior, a rigger can earn more than 30,000 euros and reach 45,000 euros per year over time. Obviously, it depends on factors such as the studio, employer or the (independent) status.
In Montreal, a rigger's annual salary is around $ 60,000, the lowest being at $ 50,000. In the United States, we note that the salary can amount to more than 100,000 dollars.
Where can you work?
It is not the job that has the most job offers. Not all studios have riggers among their teams. The biggest ones, such as Ubisoft, Ankama or Quantic Dream, have this profession, especially in large productions.
It is also possible to work as a rigger on behalf of image, animation and digital companies.
The career of a rigger
It can be in France or abroad in video game capitals like Montreal for example. With experience, a rigger can take on responsibilities and become a lead rigger or even become an artistic director.
"I hesitated with animation. I spent three months in this universe to realise that it was not for me because you put a good part of yourself in animation. Besides the technical aspect to make a technically correct animation, we make subjective choices that we think are better, but with which the superiors do not always agree. The advantage of the rig and the fact that it is more technical than artistic, there is no subjectivity. If something's not working, we fix it. If something can be improved, we improve it. It's more down to earth and personally, it suits me! In addition, I really like code, and this job allows me to practice it as well! "


Valentin Sabin
Rigger at DONTNOD Entertainment
Become a freelance rigger
It's a possibility. Becoming a freelance rigger is quite possible for anyone who wants to work in complete freedom. It will take a high technical level, good organisation and a sense of negotiation to be able to work in this way. The advantage is being able to choose your projects, your clients and manage your schedule.
How can you become a rigger?
As the rigging profession is on the rise, there may be many more riggers in the years to come. The discipline is in vigorous development. Therefore, you will begin by following a quality training course (bachelor's degree and MBA) at our G. Art school to acquire knowledge in graphics, computer development and anatomy, and body expression.
In video