| | |
| --- | --- |
| Study level: | bachelor's degree |
| Recommended high school specialisation: | Artistic |
| Employability: | Fair |
| Beginner salary: | € 2,250 |
| Salary after experience: | € 3,500 |
| Mobility: | Correct |
| ROME code | E1104 |
| FAP code : | U1Z91 |
"In a few words, a screenwriter creates intrigues, characters, dialogues, and a universe which must be consistent with the mechanics of the game"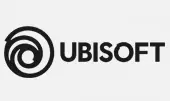 Sarah Beaulieu
Freelance screenwriter who has worked for Ubisoft (Beyond Good & Evil 2)
The responsibilities of a narrative designer
Working on a video game scenario means writing the story of the game, which the artistic teams will then develop. To do this, they must therefore:
Define the story according to the target of the game
Create the characters, their characteristics
Design the game mechanics
Ensure that the user experience is maintained throughout the scenario
Write and work on the style
Respect technical constraints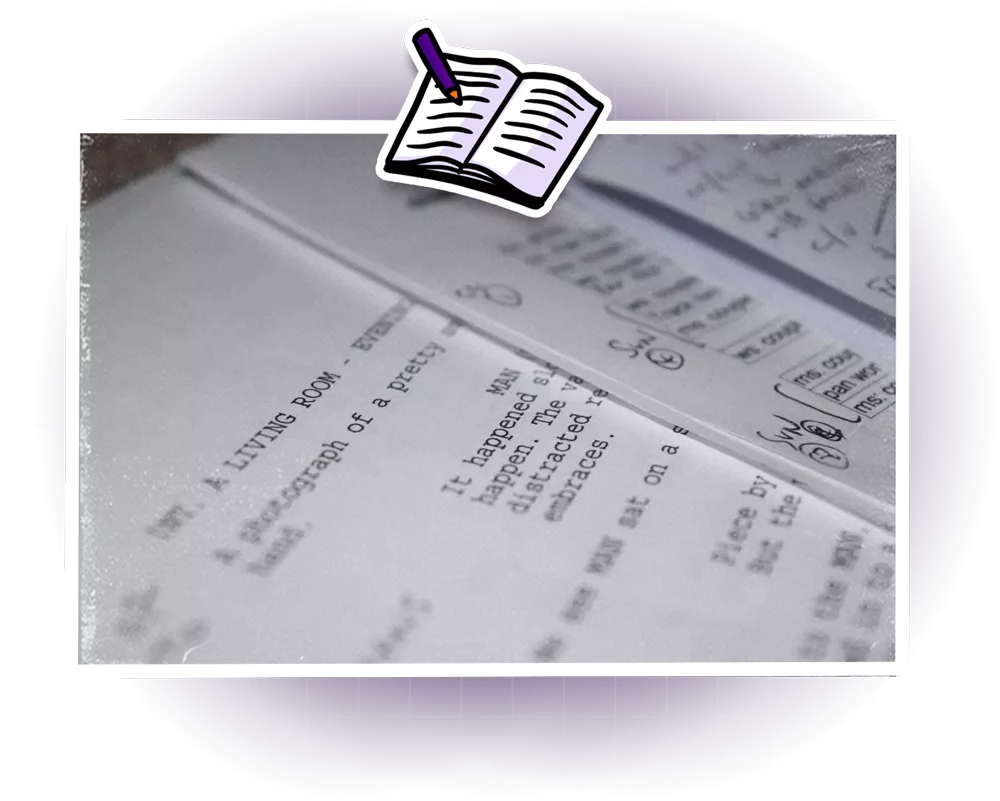 "They have an overall outlook of the project, and an ability to visualize, imagine and produce clearly and precisely; unfailing flexibility; knowledge and an inexhaustible curiosity on all subjects. These are the crucial skills for a narrative designer."

Anthony Jauneaud
Freelance narrative designer since 2017 (Asobo, Ubisoft, Monkey Moon, ...)
What are their qualities?
Several qualities are required to become a video game writer. It is, therefore, necessary to be:
Versatile
Autonomous
A team player
Rigorous
Soft
Creative and inventive
The skills required
A narrative designer is able to write a video game script, and they possess the following skills:
Good writing and writing skills
A general culture
An appetite for the game
Knowledge in the production chain of a video game
A good level of English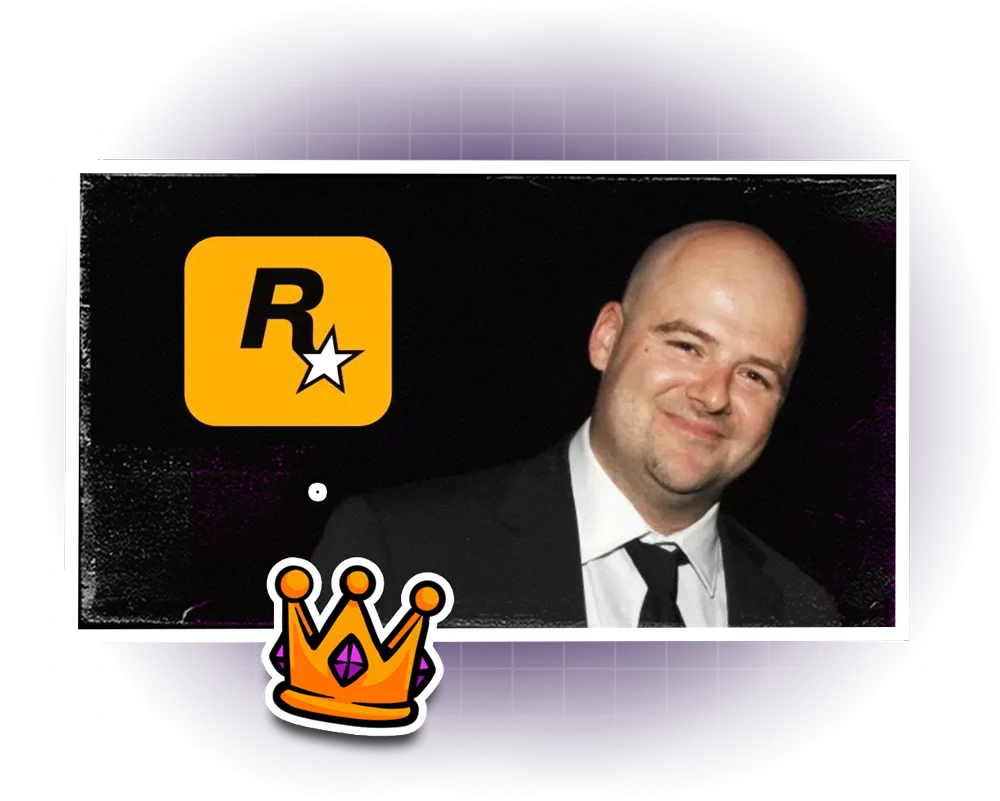 « A screenwriter must work in full collaboration with the rest of the team. They must know the rules of dramaturgy and the basics of game design, » says Sarah Beaulieu.
The advantages and disadvantages of this profession
The advantages of being a video game writer:
Open to everyone
Work independently
Creation of original universes
The disadvantages :
A profession which is difficult to access
Compensation which may be low depending on the project
An large amount of work
« There are above all advantages: when you love to tell stories, it's a job with endless possibilities. The main drawback is that we often arrive late in production, and that we have to deal with game mechanics that are already in place, » emphasizes Sarah Beaulieu.
Anthony Jauneaud adds: « It's a very vast job in a team and which requires being able to reach out to people, to communicate clearly. The advantages are many: storytelling is present everywhere, it allows you to tell poignant, beautiful, engaged, exciting tales. The disadvantages are likely to surprise people: it is a demanding job requiring creativity, work ethic, and perseverance. We often repeat the same tasks, we work hard until we find the solution. It's not a job that you can easily « unplug » from at the end of the day. « 
What level of study is required?
It is a rare job that does not require a minimum level of study; becoming a narrative designer can be done in different ways: coming from a degree, after a high school diploma or on the job. However, going through a school specializing in video game careers can be useful.
The reason: it allows you to understand the production of a game, the sector, and the basic techniques. Leaving with a bachelor's degree is a good thing. Beforehand, and to put luck on your side, you will have to choose a speciality in high school: Foreign languages, literature and cultures; Humanities, Literature and Philosophy or Digital and Computer Sciences.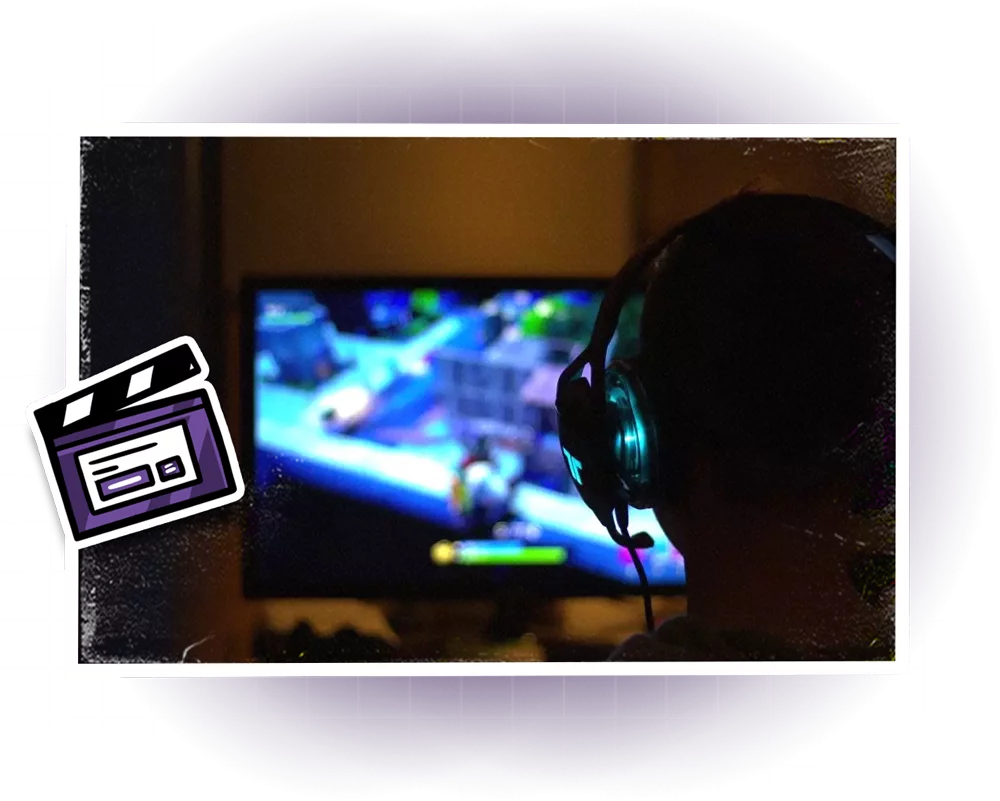 What course should you do?
G. Art offers training to access the profession of video game scriptwriter. Located in Lyon, our school allows students to learn video games and game design fundamentals in three or five years.
First, our 2D / 3D Computer Graphics – Game Art bachelor's degree teaches you all the basics of video games with a solid cultural, artistic and technological background. With our professional speakers and recognized teachers, you will learn technical and digital aspects (software, programming, etc.), creative culture (gaming, concept art, game design, etc.), and acquire concepts in management and communication. Meetings, masterclasses and internships supplement this training.
Then, after this bachelor's degree, it is possible to pursue an MBA in game artistry. This is a two-year diploma, recognized at the RNCP Level 7 Title. It is a high-level course during which a student will learn to create coherent and immersive graphic universes – needed to become a video game writer. You will perfect your skills in production and software, game art, communication, and management.*
All of our training courses offer a unique pedagogy based on concrete projects.
How can you do a video game script writer internship?
Our school allows students to immerse themselves in the professional world throughout their education. This is done through internship periods at the end of the first year.
The internship lasts two months in the 1st and 2nd year of the bachelor's degree
Three months at the end of 3rd year
Six months in 4th year of MBA
A 5th year exclusively in internships and fixed-term contracts
Thanks to the companies who welcome our interns, we regularly offer internship offers at the school. In addition, sites such as Gaming job or Welcome to the jungle, publish offers regularly.
What is the salary of a video game writer?
A video game writer earns an average of 27,000 euros over a year. Depending on their status, the projects on which they work, and their employer, they can earn up to 30,000 euros.
Abroad, their salary will be different. In the United States, for example, a narrative designer can earn up to $ 86,000 annually. On average, their salary is $ 59,000.
On the other hand, in Montreal in Canada, the video game writer will see a more substantial salary. From $ 72,000 on average to over $ 120,000 per year.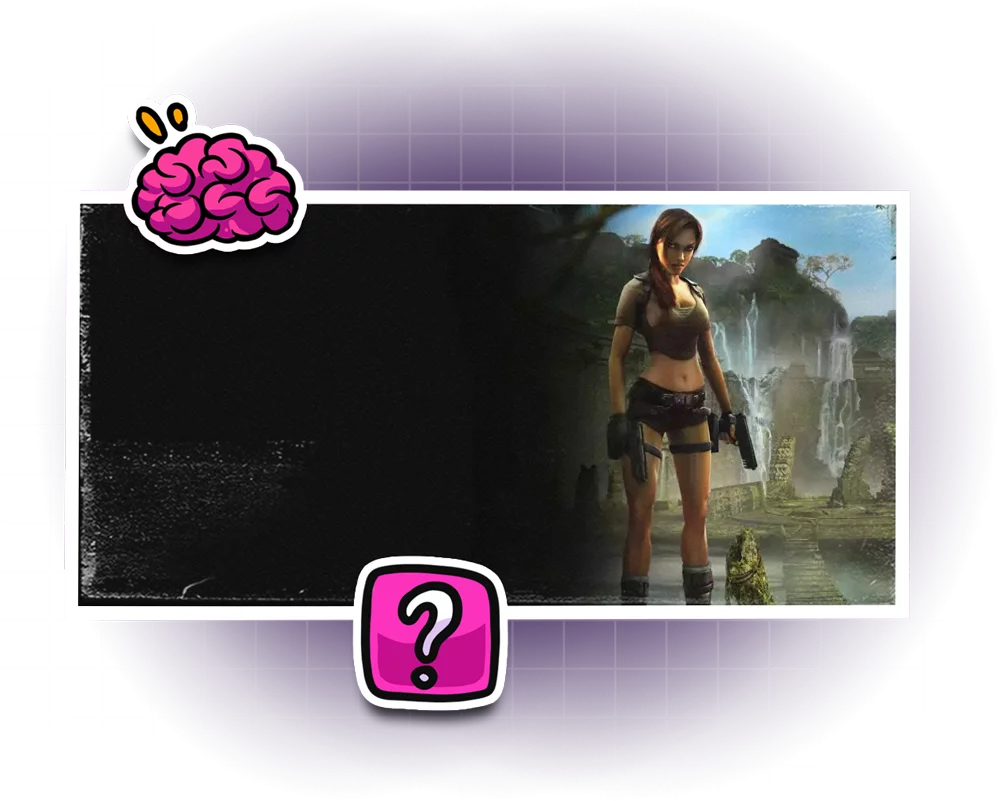 Where can you work and how can you progress?
Many video games have a story, characters, a universe, which is why studios need writers. They can be both employees of the company or work independently, being paid by the project. Of course, there are jobs with the biggest studios like Quantic Dream, Shiro Games, Ubisoft, Warner Bros, Eidos, in France and abroad, in traditional video game studios, and in serious game development studios.
Progression is possible after a few years of experience, such as becoming a video game project manager or working in production. Also, a video game writer can turn to cinema, animation or even television.
"Three pillars are important: work, network and luck! You have to write, create stories, build a portfolio with your professional or personal projects. Then, you have to show your work, go to conferences, do game jams to meet people. Freelancing is very complicated when you do not have a network. "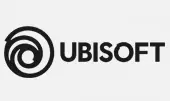 Sarah Beaulieu
A freelance screenwriter who worked for Ubisoft (Beyond Good & Evil 2)
Become a freelance video game writer
You can do this job in many ways: as a studio employee, a temporary worker or self-employed. Like many video game careers, working as a freelance video game writer is common. To go freelance, you will need to know the field of video games well, have a little experience in it, and have a certain creativity and originality. In fact, you will have to create a business, be well organized and rigorous, then go through your network to start. From then on, it is possible to submit your writing work to studios and your talent will do the rest.
"Places are scarce and generally fluctuate depending on the project. Being a freelancer is more practical for everyone since some projects will need you 2 months at the start and then 4 months at the end of a production. The simplest way to do this job is through crossover work: doing game design, level design, production and being available and curious to get closer to the narration. Understanding the workings of a development team seems to be an absolute necessity."

Anthony Jauneaud
Freelance narrative designer since 2017 (Asobo, Ubisoft, Monkey Moon, ...)
Well-known video game writers
In the large production line of a video game, all careers are important. The screenwriter is, therefore, part of it. A good script and a good user experience are the two guarantors of the success of a game. And among the professionals who have created world-famous stories, we can mention the brothers Sam and Dan Houser, producers and writers of the series Grand Theft Auto. They created Rockstar Games together. Corey May was the screenwriter of Assassin's Creed. Sam Lake worked on the story for the famous Max Payne video game. And Jason Dozois, a narrative director on Tomb Raider.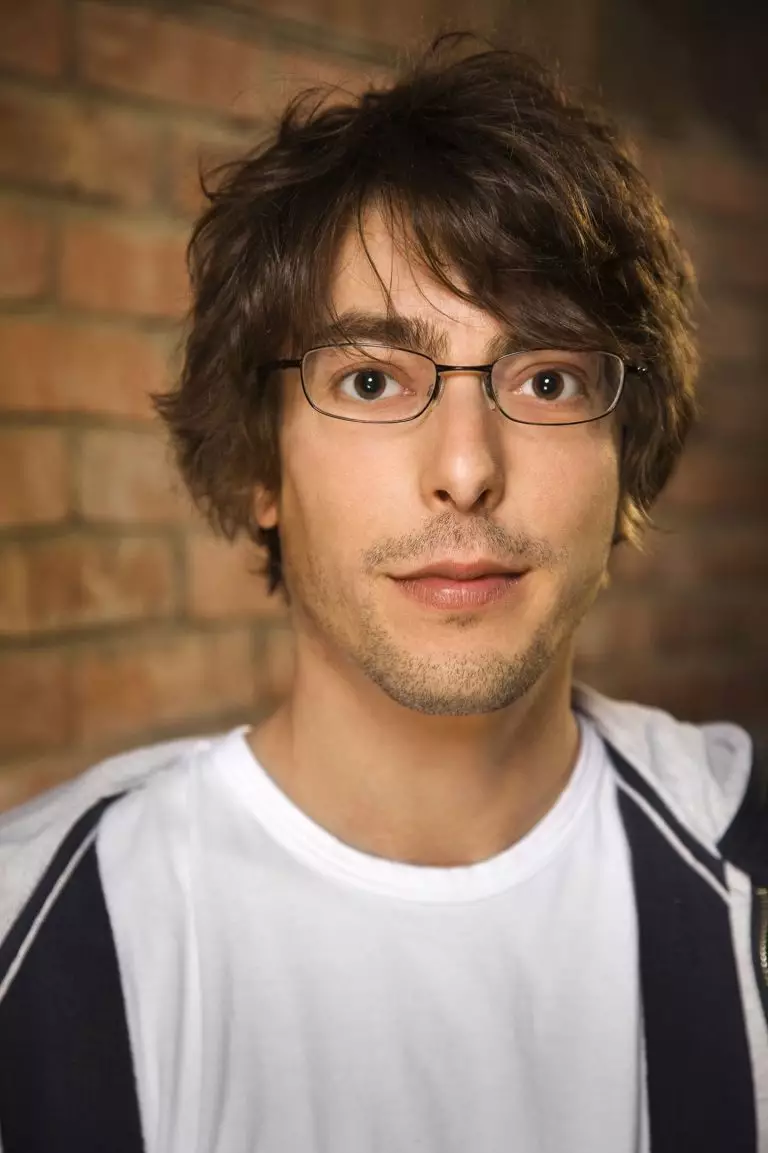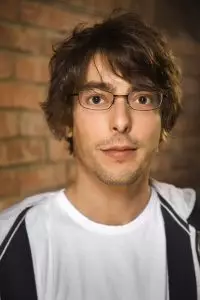 In summary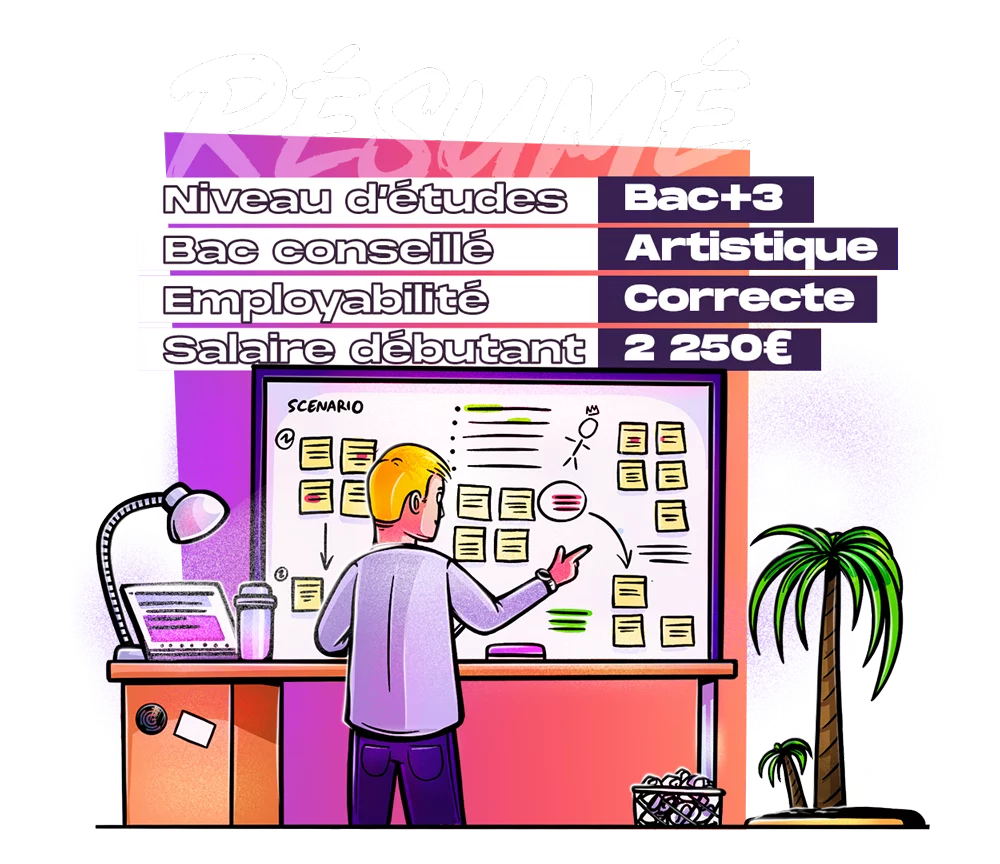 How can you become a video game writer?
Writing the plot of a video game requires creativity and knowledge of the video game industry and the uses of players. This can be learned on the job, but more easily by choosing to go through a video game school. To become a video game screenwriter, our G. Art school offers access to this profession through game design with the 2D / 3D Computer Graphics bachelor's degree – Game Artist and through the Game Artist MBA.
Video game screenwriter in video